Wilbert Kudszus - 1920-1998
I would like to dedicate this portion of the site to my father, Wilbert Kudszus, who flew BF-110 aircraft throughout the war, served his country in a senseless struggle and still came away from it a wonderful man, a great father and a role model.

He served with, among others, the 2. ZG/76 in Poland, the Western Front, over Britain, in Scandinavia, the Med, North Africa, Russia and, finally, in the Reichsverteidigung. He received the Iron Cross First and Second Class, and the Frontflugspange. He received orders for the German Cross in Gold the morning before he surrendered to the Americans at the Austrian border.

Here are a few pictures I have recently received from my mother.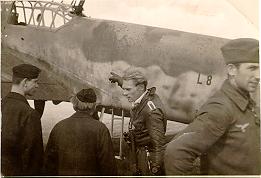 Yes, He's pointing out .50 Cal holes to the men in black
Returning from a mission, dad shows the .50 caliber holes in his plane to members of the Schwarze Männer ("Men in black"-Ground crew mechanics). It appears he was trying to recruit some of them for air crew duty...
He had gotten a touch too close to a B-17.
Needless to say, the older Luftwaffe crewman at right seems to just want to "disappear"...