Welcome to Charlotte's Axis Attic, the Axis Counterpart to the Knacker Squaddies Quartermaster site. As will be apparent throughout these pages, my mum did wear Army Boots!
George (AKA Grandarse)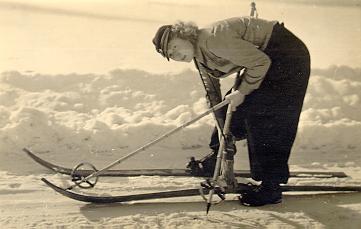 Charlotte-Doing her bit for the Fatherland!
When George received a request from his friend to produce some German rations for that gentleman's son who does a Fallschirmjäger impression, he produced a couple of extra sets to show around, and we decided to put one on eBay based on the strong interest these items received.

Since then, we have had many requests and inquiries into these items, and have decided to add them to our inventory of standard goods, especially with all the help we have received from German WW2 veterans, museums and technical staff at military historical research centers throughout Europe.
Mum doing more work for the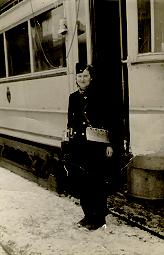 fatherland...
Infine!
As we have received much support from George's mom in Germany (both with the purchase and re-mailing of the proper items and technical support as she served in military service "Kriegsdienst" during the war), we have decided to call this off-shoot of the Knacker Squaddies "Charlotte's Axis Attic". We hope you will enjoy the information contained herein and find interest in the items available to round out your impression.
...and taking pictures of her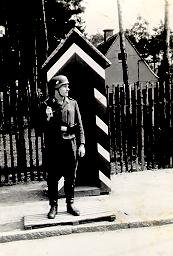 boyfriend pulling guard during basic!
We hope you enjoy your trip through the Reich's pantry and find some of the articles (more to come soon) as much fun to read as they were to write.
ACHTUNG!

Click on your Wehrmacht Branch below for information and available Rations and Equipment! If you were looking for the Knacker Squaddies Allied Rations and supplies, click on the "Right Mad Kitty" of the 17th Division!
Go To Our NEW SALES PAGE- Vintagerationdepot.com by clicking Here!