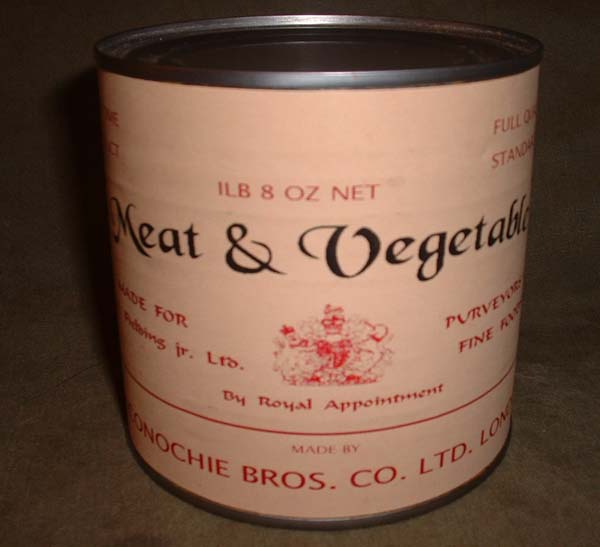 M&V
Meat and Vegetable, often also referred to as "Tinned Turk" or "Dog Meat", was actually a meat and vegetable stew in stubby 24 ounce tins. This item has been in use since the Boer war, and survived (albeit in foil pouch form) until today.
There are two varieties available:
1. Commercial M&V--Generally bearing a label that indicates maker (Maconochie Bros) and address, generally on white or coloured paper. (no choice). Suitable for any impression from 1880's through 1940's!
2. 'Military Stores' ('Supply Dump') issue, in cans bearing buff-coloured labels.
KINDLY ADVISE WHICH STYLE YOU WANT!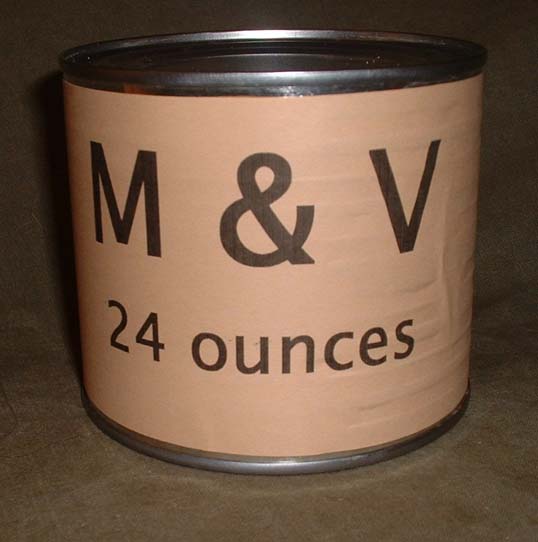 Order No: WWI003BR
Price:
$ 3.75/tin
or stock up for $ 9.95 for 3 tins
PLEASE NOTE:
The military (plain label) tins are dated. Please Select from the list provided.

COMING ATTRACTIONS:
"Bovril"-Style Emergency Beef and Cocoa Rations
From Boer to Boche--Don't leave home without them!
Tinned beans with Boer War and WW1 Labels
"Homefront" Gift packets with Sweets etc.
"Daily Ration" Components
Cigarette and Tobacco Packs